This guide will walk you through the process of setting up your pitch
Setting up your pitches is a crucial step of being able to access everything PlayerData has to offer following a match session and you won't be able to upload your data without doing it. Doing this is simple and help to generate the Heat Maps and Intensity Maps from your match days.
Video Guide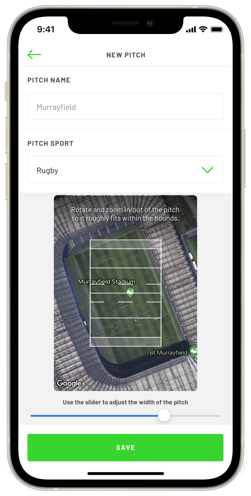 Open the PlayerData app and tap 'MORE' on the home screen at the bottom right.
Scroll down to the section APP SETTINGS and Tap 'PITCH SETUP'
Select 'SETUP NEW PITCH' at the bottom of the screen
Type in the name, address or postcode of the pitch and then tap 'NEXT'.
Name the pitch and select a sport
Using your fingers, resize the pitch template over the top of the Google maps display
Line up the top and bottom ends of the template over your actual pitch and use the width slider to set the correct width
Tap the 'Save' button at the bottom.
You will only need to do this once for your home pitch and all the away pitches you play on through the season.