How to upload data to match or training sessions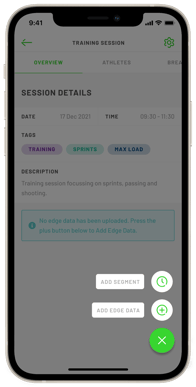 Make sure your EDGE unit is turned on.
On the PlayerData app select 'TIMELINE' at the bottom of the home screen.
Select the session you would like to upload the data to.
press the green '+' button at the bottom right and tap 'add EDGE data'.
This will list your EDGE unit and display with the initial and numbers you previously set.

Now use the drop—down menu to assign your athlete profile to your EDGE unit.

Tap 'next.' You must stay in the app otherwise the data transfer will stop and the data will not display.
The data has now been sent for processing, check back on the session in a couple of minutes to view the data.