In this article we will let you know how to pause your team subscription for the off-season period.
To pause your subscription please follow the steps below: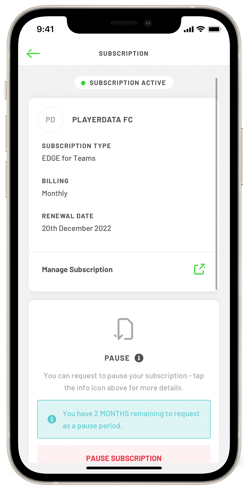 Open your PlayerData mobile app and go to the 'More' section in the bottom right hand corner.
From here you should see the 'Manage Subscription' tab (you will only see this if you have set up Stripe automatic billing)
Scroll down to where it says 'PAUSE SUBSCRIPTION'
You will be prompted to select how many months you would like to pause for (This will be either 1 or 2 months).
Click on 'PAUSE MY SUBSCRIPTION' to continue.

A subscription pause starts the day before the next billing date on the subscription. So on requesting a pause, you will see the "Pause Scheduled" screen. You can cancel this scheduled pause at any time before the start date if you no longer wish to pause or if you want to change the length of your pause time.