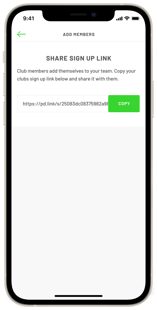 HOW TO ADD CLUB MEMBERS
1. Open the PlayerData app and tap 'MORE' on the bottom right of the home screen.
2. Tap 'CLUB MEMBERS'.
3. In the top right-hand corner tap the '+' button
4. Tap 'COPY' and send the link to your players and coaches (especially
useful if you have a WhatsApp group you can just post the link)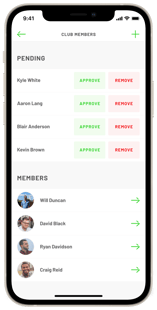 APPROVING PLAYERS
1. Once your players have created their PlayerData profiles, go back to the 'CLUB MEMBERS' screen and tap 'PENDING MEMBERS', you can either Approve or Remove their requests.
2. Once you have approved their request, they will display as members in your club and will then be able to sign in to the app
3. You can assign the roles to any member of your club by tapping their name in 'Members' (These roles are staff, staff/athlete & athlete. Added members will default as 'athlete').